The Settlers Inn Press
Looking to feature The Settlers Inn? Here's what you need to know.
What are people saying about us?
About The Settlers Inn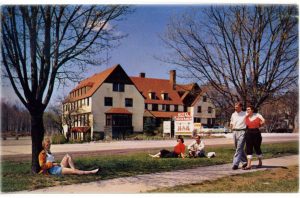 The Settlers Inn is an authentic Arts and Crafts Lodge located in Hawley PA. The hotel was conceived and built by the community in 1927 when nearby Lake Wallenpaupack (the fourth largest man-made lake in the state) was being developed. The Great Depression and World War II halted construction, but the hotel was finally completed in the late '40s.
The historic hotel boasts natural features such as Pennsylvania Bluestone and native Chestnut wood beams that are enhanced by traditional English Arts and Crafts style décor such as hand-screened Bradbury & Bradbury wallpapers and handmade Fulper tiles.
The Inn sits on six acres of land surrounded by beautiful gardens, and bordered by the Lackawaxen River
Located in the Pocono Mountains Lake Region, guests at The Settlers Inn are able to enjoy the beauty of the area, which includes many lakes as well as recreational opportunities on the Delaware and Lackawaxen Rivers
23 total guest rooms are beautifully appointed, and many feature Jacuzzis and fireplaces.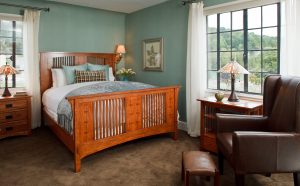 Amenities include a complimentary farm to table breakfast each morning, complimentary access to Lake Region Fitness Center, complimentary Wi-Fi, electric charging stations, Comphy sheets, luxurious bath products from William Roam, beautiful gardens, and a small riverside beach area perfect for casting your line and fishing.
Grant's Woods is a newly created open-air woodland dining experience on the property that boasts posh picnic cabins, hammock chairs, outdoor chef's kitchen, an oversized fire pit and wicker furniture.
Eco initiatives include a long standing commitment to supporting our local farmers, participation in "Clean the World," an organization that recycles partially used bathroom amenities and ships them to third world countries to promote better hygiene and participation in the Green Lodging Program for the Delaware Highlands Conservancy. A $2 donation from each guest supports the conservation efforts of the conservancy.
The Settlers Inn features an award-winning restaurant, committed to farm to table cuisine, serving breakfast and dinner daily.
The wine list has won Wine Spectator's Award of Excellence annually for the last 10 years.
Several wine dinners are hosted throughout the year, and signature annual events include our summer jazz on the deck series, a storytelling dinner in autumn and our Candlelight Christmas dinner during the holidays.
The Settlers Inn is perfect for couples, families, business travel, weddings, special events, and corporate meeting and retreats.
Recent Press
Let's Do Breakfast: The Settlers Inn at Bingham Park
The Travel: 10 Poconos Resorts That Couples Love Staying At
Fox29 Philadelphia: Summer travel trends and deals
The Travel: 10 Poconos Resorts That Are Perfect For Couples This Summer
Historic Hotels of America: The 2022 Top 25 Historic Hotels of America Most Magnificent Gardens List is Announced
Historic Hotels of America: 2022 Top 25 Historic Hotels of America Most Unique Culinary Heritage and Culinary Traditions List Is Announced
Penn Live: Pa. hotels named to the 2021 Top 25 Historic Hotels of America Most Magnificent Gingerbread Displays list
NBC Philadelphia |  Philly Live: Sheila Watko Grabs a Beer, Takes a Rest in This Pocono Mountain Town
Scranton Chamber of Commerce: Chamber Announces Fall 2021 SAGE Awards Finalists
Historic Hotels of America: 2021 Historic Hotels Awards of Excellence Nominee Finalists Announced (Finalist for Best Social Media)
New York Lifestyles Magazine: THE SETTLERS INN – A Classic Country Inn
Philadelphia Magazine: Cozy Cabins, Luxury Resorts, and Boutique Hotels to Book for Your Next Poconos Getaway
Penn Live: 9 'foodie towns' in Pennsylvania worth visiting
Scranton Chamber: Chamber Celebrates 2021 SAGE Award Winners at Chamber Gala
Getaway Mavens: Most Popular Destinations in the Northeast
WNEP: Honoring Veterans in Wayne, Pike Counties
Manhattan Digest: Travel Idea! Settle Into Poconos Comfort at The Settlers Inn
Discover NEPA: The Settlers Inn at Bingham Park
Wayne Pike News: Poconos Restaurant Owners Offer Comments, Feedback To Congressman Cartwright
SNJ Today: Travel Time: The Poconos Are Back In Business
WNEP Home & Backyard: Patio Dining, Picnics And A Perfect Atmosphere
Getaway Mavens: Hawley PA: Big Lake, Small Town Charms
News13 BRCTV: Popular Resorts in the Poconos Affected by Yellow and Red Phase of Reopening
WNEP: Free meals for employees in Wayne County
FOX56: Settlers Inn offering meals at home
Happenings Magazine: Jeanne Genzlinger named one of NEPA's Most Influential Women
Penn Live: Gift ideas for people who like to travel: Fenton's favorites
Historic Hotels of America- Top 25 Most Unique Culinary Heritage & Culinary Traditions
WVIA- Woodstock Memories with Grant & Jeanne Genzlinger
Trip Advisor- Certificate of Excellence 2019 (Hotel & Restaurant)
Historic Hotels of America- 25 Most Magnificent Gardens
PA Live- Chef Evan Munley. Watch here.
Chef's Kitchen- Chef Evan Munley. Not yet released.
Ray Price Cars- Best Thanksgiving Dinners near Stroudsburg
PA Eats- Top 9 restaurants and bars with the best views in PA
Mom of the Year: 8 Reasons The Settler's Inn is the Quiet Escape You Need
PA Live: Chef Kate Woehrle, Chef De Cuisine, Cooking and Speaking About an Annual Event with Lacawac Sanctuary at The Settlers Inn. Watch here.
PA Live: Justin Genzlinger, owner, and Terri Marcellus, manager, talk about what makes The Settlers Inn special. Watch here.
Getaway Mavens: Hawley PA, Big Lake, Small Town Charms
BedandBreakfast.com: Top 10 Inns for Business Travel
Looking for high res images or logos? Email SOFee@settlershospitality.com.