Our Hotels
Settlers Hospitality's COVID-19 Operational Plan
All of our hotels are historic properties converted into hotels with modern amenities and historic touches. We have 76 keys and 101 room selections including The Settlers Inn, Ledges Hotel, and Silver Birches Resort.
Our Restaurants
Settlers Hospitality has launched the restaurants in our group with the intention of offering our guests multiple settings, styles, and price points. Our creative chefs, have access to the freshest locally sourced ingredients, who create menus to satisfy the most sophisticated palate.
Catering & Special Events
We specialize in weddings with over 100 celebrations annually. We offer catering services on multiple levels for all occasions. We also offer catering with Cocoon Catering for private off site locations.
The Experiences
Our lifestyle brands include a fitness center with yoga studio, specialty retail stores, an artisan bakery & locavore market and a lakefront recreation center focused on both motorized and non-motorized water experiences. Our lifestyle brands co-exist within our hotels and within our community.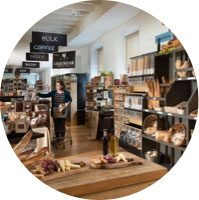 Investment
Settlers Hospitality continues to grow and with that growth, opportunities arise for individuals to invest in our company and in turn join us in the dividends these properties bring. We are always looking for future investment properties as well.
Management
Rely on excellence, quality and a management team that has an expertise in hospitality including hotels, restaurants, catering and recreation.