Settlers Hospitality Catering Business
Settlers Hospitality Catering and Special Events: The Undercroft, The Boiler Room,
The Waterfront, Gravity Hall, Custom Offsite Catering
Settlers Hospitality Group has crafted each of the event venues in our group to offer an experience that will suit a variety of aesthetic styles, price points and themes. From the classic garden setting and arts and crafts Undercroft to the contemporary industrial beauty of the Boiler Room to the vintage lakefront experience at The Waterfront all of our locations provide full service event planning for a variety of event types. Whether assisting to plan a wedding, rehearsal dinner, party, corporate retreat, or other festivity, our event coordinators are committed to applying their knowledge and skills to create a high level, personalized event that realizes the guest's vision for their special day.

The Undercroft – A traditional historic arts and crafts venue set on exquisite gardens along the Lackawaxen River. Menus are consistent with the farm-to-table restaurant concept of host hotel The Settlers Inn. Indoor Capacity: 100 guests Tented Outdoor Garden Reception Capacity: 150 Guests. Optional Riverside or Garden Ceremonies available.

The Boiler Room – An industrial contemporary event space set alongside the Wallenpaupack Gorge featuring catering by the Coccoon Catering Company. Capacity: 75 guests. Option tented ceremony space available on the decks overlooking the waterfalls of the Wallenpaupack Gorge.

The Waterfront – A sunset facing vintage waterfront venue with panoramic views of Lake Wallenpaupack. Menus are consistent with the vintage, seafood focused menus of the host hotel Silver Birches. Indoor Capacity: 300 guests. Optional ceremony and cocktail location on the waterfront lawns of the resort.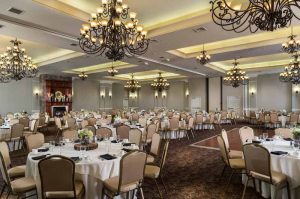 Gravity Hall – A modern twist on historic roots, Gravity Hall provides an elegant atmosphere for up to 350 guests.

Custom Offsite Catering – Blu Stone Caterers offers full service on-site catering at your home or the location of your choosing. Our event coordinators will take care of all the details from event planning, rentals, menu planning and execution with our full service staff and private chef.