Settlers Hospitality Experiences
Settlers Hospitality Experiences: The Potting Shed, Art on the Edge, Lake Region
Fitness, & The Recreation Center at Silver Birches
Our lifestyle brands include specialty retail stores, a fitness center and yoga studio, and a lakefront outdoor activity center focused on both motorized and non motorized water experiences. Our lifestyle brands co-exist within our hotels and within our community. While open to the public year round, these lifestyle brands offer our guests a quality experience with modern amenities, historic charm, and exemplary service that go far beyond a typical hotel "gift shop" and "fitness center". We offer our guests free access to our gym and yoga studio as well as maintaining outside membership for the community. The gym holds classes free to members 7 days a week and additionally sells day passes. We offer a unique retail experience to our guests at Art on the Edge, the Potting Shed at The Settlers Inn, and the Recreation Center at Silver Birches. We are now offering Kayak, SUP, and Pontoon boat rentals as well as parasailing for our guests and members of the community. For our resort, day passes are available at Ledges & The Settlers Inn for those guests to use the waterfront recreation at Silver Birches. Guests are welcome to travel between the properties and enhance their stay by curating their own experience out of the many options offered across all of our platforms.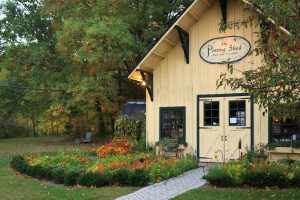 The Potting Shed – A retail and gift store themed around garden art featuring products consistent with the arts and crafts lodge setting of The Settlers Inn.

Art on the Edge – A specialty retail store focused on contemporary art, home decor, gift and fashion.

Lake Region Fitness – A boutique fitness center fully equipped with the latest machines and free weights with a focus on delivering technical fitness classes such as yoga, spin, Zumba and others

Recreation Center at Silver Birches – Convenient lake oriented sundries and gifts are offered at the Activity Center which also serves as a hub for coordinating all lake activities such as kayaks, SUPs, pontoon boat rides and parasailing.