Silver Birches Press
Looking to feature Silver Birches? Here's what you need to know.
What are people saying about us?

About Silver Birches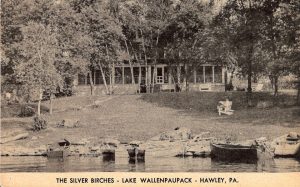 Everything old is new again is the mantra that describes Silver Birches Resort, a vintage lakeside resort that sits on nearly 700 feet of shoreline on Lake Wallenpaupack. Encompassing 5,700 acres, Lake Wallenpaupack is the third largest man-made lake in Pennsylvania.
Silver Birches Resort is home to a collection of thirteen vintage structures with varied histories dating back to the 1920s.
The resort is made up of 24 hotel rooms, 5 cottages and 3 houses, many of which have porches, decks, balconies, fireplaces and whirlpool tubs.
Amenities include breakfast with hotel room stays, complimentary access to Lake Region Fitness Center, complimentary Wi-Fi, Comphy sheets, luxurious bath products from Gilchrist and Sonoma's, firepits overlooking the lake, complimentary champagne toast at sunset, seasonal outdoor swimming pool, lawn games, and playground.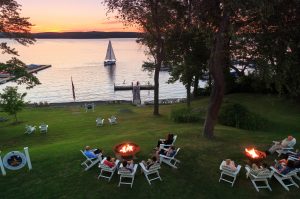 An on-site recreation center offers complimentary kayak, canoe and stand-up paddleboard rentals.
Eco initiatives include a long-standing commitment to supporting our local farmers, participation in "Clean the World, an organization that recycles partially used bathroom amenities and ships them to third world countries to promote better hygiene.
Green Lodging Program for the Delaware Highlands Conservancy receives a $2 donation from each guest to support their efforts.
The Dock on Wallenpaupack offers guests quick serve breakfast or sit-down lunch and dinner. The Dock features a 100-foot three season outdoor deck overlooking Lake Wallenpaupack. A 45-person private dining room also features views of the lake.
The Waterfront at Silver Birches Resort is an event facility that can hold up to 300 guests for weddings, special events and meetings.
Special events are held throughout the year, including the resort's signature event, Wally Wine Fest. The three-day event features vintages from domestic and international labels.
Recent Press
Historic Hotels of America: Awards of Excellence Nominee Finalists
NBC 10 Philadelphia: Pack up for the Poconos
Oprah Daily: 32 Best Places to Go for Thanksgiving in America
U.S. News & World Report: 21 Top Romantic Getaways in Pennsylvania
Philly Live: Boutiques, Restaurants and Family Friendly Activities Thriving in the Pocono Mountains
Eater: An Eater's Guide to the Poconos
DiscoverNEPA: Let's Do Lunch: The Dock on Wallenpaupack
Fox29 Philadelphia: Summer travel trends and deals
The Travel: 10 Poconos Resorts That Are Perfect For Couples This Summer
Families Love Travel: Best Summer Resorts in Pennsylvania for Families
Historic Hotels of America: 2021 Historic Hotels Awards of Excellence Nominee Finalists Announced (Finalist for Best Historic Resort)
Visit PA: 10 Must-Visit Waterfront Restaurants in Pennsylvania
US News and World Report: 16 Top Poconos Resorts to Visit
Philadelphia Inquirer: Where to eat (and drink) in the Poconos
Philadelphia Magazine: 13 Ways to Have the Ultimate Poconos Summer Vacation
Philadelphia Magazine: Cozy Cabins, Luxury Resorts, and Boutique Hotels to Book for Your Next Poconos Getaway
FOX56: Group of PA lawmakers pushes for restrictions to be lifted before Memorial Day Weekend
WNEP: Restaurants say servers will still wear masks for outdoor dining despite new CDC guidance
Jaqueline Spadoni: A Lifestyle Fashion & Beauty Blog: Silver Birches Resort: A Roundup of our Stay
Getaway Mavens: Most Popular Destinations in the Northeast
Historic Hotels of America: 2020 Historic Hotels Awards of Excellence Nominee Finalists Announced: Silver Birches was nominated for Best Historic Resort
Mom of the Year: 10 Family Outdoor Adventures Awaiting at Silver Birches Resort
News 13 BRC TV: Busy Holiday Weekend at Lake Wallenpaupack
Uncovering PA: Taking a Family Road Trip Across Route 6 in Pennsylvania
News 13 BRC TV: Businesses in the Lake Region See Mixed Results in the Covid-19 Era
PA Homepage: Concert on Lake Wallenpaupack brings back live music to area
WNEP: Organizers Cancel 4th of July Fireworks at Lake Wallenpaupack Over Safety Concerns
Getaway Mavens: Hawley PA: Big Lake, Small Town Charms
Fox 56: Lake Wallenpaupack businesses expecting 'lots of boats' on Memorial Day weekend
WNEP: Lake Wallenpaupack half-red, half-yellow
News 13 BRC TV: A Trying Time for Wedding Venues in the Poconos
Vanessa Leon Photography: Lakeside Romance
News 13 BRC TV: Visitors Flock to Lake Wallenpaupack for Independence Day
Wayne Independent: Chili & Wing Cookoff Benefits VIP
Dan Schlossberg: Travel Itch Radio
Trip Advisor: Certificate of Excellence 2019 (Hotel & Restaurant)
Getaway Mavens: Hawley PA, Big Lake, Small Town Charms
Manhattan Digest: A Manhattanite in The Pocono Mountains: Welcome to Silver Birches
Toddlin' Across America: Our Family Getaway at Silver Birches Resort in Hawley, Pennsylvania
Family Vacation Critic: Silver Birches Overview
Looking for high res images or logos? Email SOFee@settlershospitality.com.