The Chestnut Inn Press
Looking to feature The Chestnut Inn? Here's what you need to know.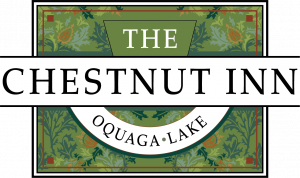 About The Chestnut Inn
The Chestnut Inn is a lakeside destination in the grand tradition of the Catskill resorts of 1940s and '50s. Located on the shores of Oquaga Lake, a private swimming lake in the foothills of New York's Catskill Mountains. Guests enjoy 400 feet of waterfront and access to seven boat slips.
First opened in 1927, The Chestnut Inn has long been a refreshing summer retreat for city dwellers. Originally operated as a 60-room hotel, the structure was built almost entirely from American Chestnut, which is now extinct. Much of the original woodwork remains intact including the expansive lobby, grand staircase and lounge with a stunning bar.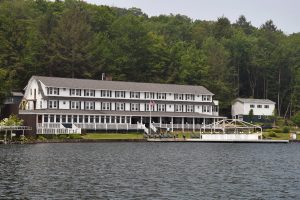 A massive stone fireplace that burns four-foot logs is the focal point of the lobby. The baseball size piece of marble in the center was brought from Germany by the president of Borden Dairy, a frequent guest.
Lakeside accommodations include 12 two-room king suites with a Jacuzzi bath and separate rain shower, four deluxe suites and one ADA-accessible suite.
Guests may enjoy a 100-foot terrace overlooking the lake, fire pits, lakeside lounge chairs, swimming, canoeing, kayaking, paddle boarding and watercraft rentals. The Inn also features a gift shop, library and business suite.
The full-service hotel offers a waterfront restaurant, conference room, business center and event space.
Dining experiences available to guests and visitors range from outdoor dining on the waterfront terrace located lakeside, to the sunroom featuring stunning water views from a wall of windows. There is also the formal dining room as well as the waterside tavern for cocktails and lighter fare. Oquaga Lake homeowners can take advantage of Dock and Dine at any of the seven available slips.
Indoor event space can host up to 100 guests while the tented lakeside venue can accommodate as many as 200 guests.
Located 30 miles east of Binghamton, NY and 140 miles west of New York City, The Chestnut Inn provides a serene getaway surrounded by forest and farmland. Area activities include golf, hiking, swimming, boating and casinos.
Recent Press
WNBF: Chestnut Inn at Oquaga Lake Springs Back to Life After Closing
Fox 40: The Chestnut Inn Holds its Grand Opening at Oquaga Lake
News 12 WBNG: Newly renovated Chestnut Inn prepares to reopen after being closed for over a decade
Binghamton Homepage: Chestnut Inn in Deposit opening on Monday
WNBF: Grand Opening Date Revealed for The Chestnut Inn at Oquaga Lake