Ledges Hotel Press
Looking to feature Ledges Hotel? Here's what you need to know.
What are people saying about us?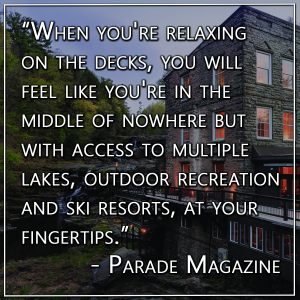 About Ledges
Ledges Hotel is a historic luxury hotel, originally constructed in 1890 as the O'Connor Glass Factory.
Constructed of native bluestone, Ledges is perched over Wallenpaupack Creek, with breathtaking views of the Paupack High Falls.
World-class architects Bohlin Cywinski Jackson designed the adaptive reuse of the structure into a modern boutique hotel. Boyce Products is responsible for many custom furnishings within the hotel.
Located in the Pocono Mountains Lake Region, guests at Ledges Hotel are able to enjoy the beauty of the area, which includes many lakes as well as the recreational opportunities on the Delaware and Lackawaxen Rivers.
20 total guest rooms consist of 11 hotel rooms, 6 one-bedroom suites, and 3, two-bedroom suites.
Paintings, photographs and sculptures by talented local artists are displayed throughout the hotel, creating a gallery-like experience. Many of the pieces are available for sale.
Amenities include a continental breakfast with homemade pastries, complimentary access to Lake Region Fitness Center, complimentary Wi-Fi, electric charging stations, Comphy sheets, luxurious bath products from Gilchrist and Soames, and 3 spacious decks to enjoy the many views.
Eco initiatives include the adaptive re-use of beams from the Hawley Silk Mill used to construct room furnishings, participation in "Clean the World," an organization that recycles partially used bathroom amenities and ships them to third world countries to promote better hygiene, and participation in the Green Lodging Program for the Delaware Highlands Conservancy. A $2 donation from each guest supports the conservation efforts of the conservancy.
The on-site restaurant, Glass wine.bar.kitchen is open for dinner Wednesday through Sunday featuring a small plates menu, a full bar and entertainment throughout the year.
Décor in the restaurant pays tribute to the building's history as a glass factory with including displays of original glass mold prints.
The restaurant hosts its signature event, Brews, Blues and BBQ, on Sunday evenings during the summer.
Ledges Hotel is perfect for a couples, families, business travel, weddings, and small corporate meetings and retreats.
Recent Press
World Atlas: 7 Most Underrated Towns In The Poconos To Take A Trip To
NBC Philadelphia | Philly Live: Escape for a weekend in the Pocono Mountains
News Break: This Might Be the Most Beautiful Restaurant in Pennsylvania
Philadelphia Magazine: These Are the 10 Real Weddings You Loved the Most This Year
Only In Your State: The Small Town In Pennsylvania That Comes Alive During The Winter Season
Philadelphia Magazine: 23 Reasons to Fall in Love With the Poconos in the Winter
Philadelphia Magazine: A Romantic Getaway-Inspired Wedding in the Poconos
Yahoo! Life & Vegetarian Times: Where to Stop On a Trip Along the Fermented Trail
U.S. News & World Report: 21 Top Romantic Getaways in Pennsylvania
Historic Hotels of America: 2022 Historic Hotels Awards of Excellence Nominee Finalists Announced
DiscoverNEPA: Dinner & Small Plates at Glass-wine.bar.kitchen
Travel Maven: Pennsylvania's most Beautiful Restaurants
New York Lifestyles Magazine: Ledges Hotel: A Hip Place For A Relaxing Getaway
Getaway Mavens: 15 Top Romantic Hideaways in Northeast US
NBC Philadelphia |  Philly Live: Sheila Watko Grabs a Beer, Takes a Rest in This Pocono Mountain Town
Let's Go There Travel: Historic Dining Rooms with Unforgettable Views
Historic Hotels of America: 2021 Historic Hotels Awards of Excellence Nominee Finalists Announced (Finalist for Sustainability Champion)
Fox56: Hotel in Hawley documents Wallenpaupack dam release
Philadelphia Magazine: Cozy Cabins, Luxury Resorts, and Boutique Hotels to Book for Your Next Poconos Getaway
Stays & Getaways: Ledges Hotel | Hawley, Pennsylvania a perfect weekend getaway in the Pocono Mountains
A Sip Of Life: 7 reasons why you should stay at Ledges Hotel, Hawley, PA in your next Poconos trip
Penn Live: 9 'foodie towns' in Pennsylvania worth visiting
Only In Your State: A Trip To Paupack Falls When Pennsylvania Has Frozen Over Is Positively Surreal
Only In Your State: Dine While Overlooking Waterfalls At Glass Wine Bar Kitchen In Pennsylvania
The Scranton Chamber: Step Inside a Snow Globe for Greenhouse Dining at Glass-wine.bar.kitchen
Getaway Mavens: Most Popular Destinations in the Northeast
WNEP: Dine by the falls in a private greenhouse
Historic Hotels of America: 2020 Historic Hotels Awards of Excellence Nominee Finalists Announced: Ledges Hotel was nominated for Best Small Historic Hotel
The Price is Right: Ledges Hotel in the Showcase Showdown
Access NEPA: Dine by the falls at Hawley Eatery
Getaway Mavens: Hawley PA: Big Lake, Small Town Charms
Philadelphia Magazine: 10 Socially Distant Getaways to Replace Your Cancelled Vacation Plans
Road Trip Masters: Hawley, PA/Sullivan County, NY Trailer
Historic Hotels of America via. Pocono Record: Top 25 Historic Hotels for a Romantic Proposal
Parade Magazine: 25 of the Most Romantic Getaways in Pennsylvania to Fall in Love All Over Again 
Penn Live: Gift ideas for people who like to travel: Fenton's favorites
PA Eats: 9 Bars and Restaurants in PA with Incredible Views
Preservation Magazines: These Three Pennsylvania Hotels Reveal the Simple Pleasures of Staying at Places With a Past
March Happenings- Feature on Chef Travis, Page 34
River Reporter- Looking Back
Lucindervention: Ledges Hotel Articles
Chamber of the Northern Poconos: Green Business of the Year
Historic Hotels of America- Finalist for Best Small Historic Hotel
Connections Cover- Glass-wine.bar.kitchen
Vacation Idea- Best PA Weekend Getaways
Getaway Mavens: Hawley PA, Big Lake, Small Town Charms
Travel Channel, Hotel Showdown: Justin Genzlinger, owner, is featured with Ledges Hotel on this popular Travel Channel show. Watch here.
Talk of The Town: Chef Travis Lug, Chef De Cuisine, Cooking with the hosts of Talk of the Town sharing tips and techniques. Watch here.
PA Live: Chef Travis Lugo, Chef De Cuisine, Cooking and Speaking about Blues, Brews & BBQ and Wally Lake Fest. Watch here.
PA Live: Terri Marcellus, hotel manager, & Executive Chef Ben Sutter of Ledges Hotel in Hawley explain the delicious food, boutique style hotel & rooms, and incredible views & activities this gem in the Poconos has to offer. Watch here.
Looking for high res images or logos? Email SOFee@settlershospitality.com.